With a comprehensive commitment to sustainability across eleven areas of impact and a focus on transforming MIT into a zero-carbon campus, the Institute is committed to leadership and sourcing solutions for sustainability and climate action at the individual, campus, city, and global scales.
MIT continues to make strides to reduce its own greenhouse gas emissions while using the campus as a testbed for sustainability innovation and education. More than two dozen offices, programs, and initiatives at MIT work to address sustainability and climate action, on and off campus.
The Office of Sustainability (MITOS), specifically, executes on its mission of sourcing scalable climate solutions by collecting and analyzing campus sustainability data, collaborating on the development of greenhouse gas mitigation strategies, modeling climate resiliency at the site and campus scale, reassessing waste reduction and disposal strategies, addressing sustainable food systems and food insecurity, and assessing and informing commuter choice through Access MIT.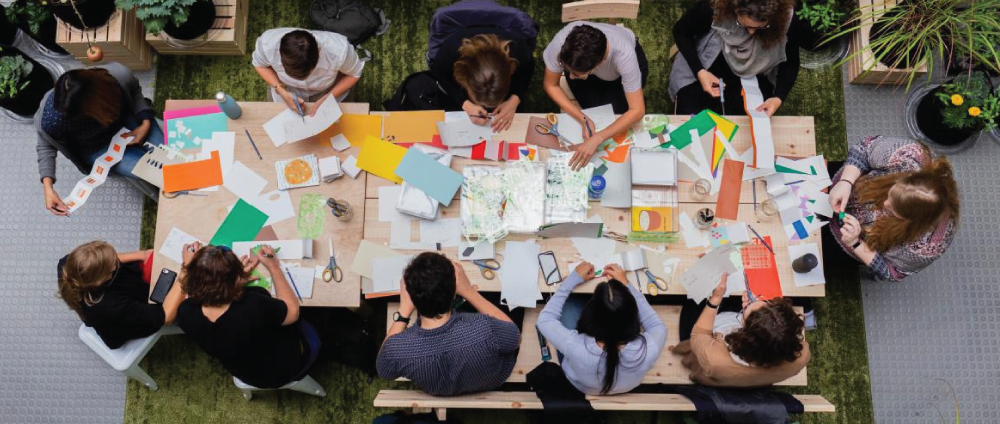 Highlights
Data remains an essential part of MIT's sustainability work. In 2020, MITOS continued to expand the data available to the MIT community via the MIT Sustainability DataPool — MIT's central portal to campus sustainability data — through newly added dashboards on waste stream contamination (available to the MIT community and general public), transportation and parking, and climate resiliency. The new MIT Climate Resiliency Dashboard is the result of an ongoing research collaboration and data sharing commitment between MIT and the City of Cambridge. The dashboard communicates projected potential risk to the campus from flooding under both today's climate and a future changed climate. Complementing the City's Flood Viewer, the dashboard completes the projected flooding picture of such potential risk to Cambridge. The projected flood information shared is based on climate change scenarios that are drawn from the best available science while including ranges of uncertainty. The projected flood information will be revisited regularly to reflect updated projections specific to local climate change. All visualizations and data sets in the DataPool aid MIT community members in understanding past trends, identifying solutions, and preparing for future sustainability challenges.

One of MIT's newly completed buildings, MIT.nano (Building 12), received the U.S. Green Building Council's LEED Platinum certification for sustainable practices in new construction in 2020. Starting in 2016, MIT made a commitment that all new campus construction and major renovation projects must be designed to achieve a minimum of LEED Gold certification. MIT.nano joins the Morris and Sophie Chang Building (Building E52) as the second LEED Platinum-certified building on campus. There are 18 total LEED-certified spaces and buildings at MIT.
As the pandemic drastically increased the need for personal protective equipment (PPE) for the MIT community, campus sustainability researchers began to focus on ways to sustainably equip community members with these essential items. In response, an interdisciplinary research team formed to identify short- and long-term sustainable procurement, sourcing, and disposal strategies for PPE at MIT with a focus on solutions scalable beyond campus as well. The research is supported by the Campus Sustainability Incubator Fund — administered by MITOS — which seeks to enable MIT community members to use the campus itself for research in sustainable operations, management, and design.

MIT also continued its efforts around sustainable procurement and materials management by advancing purchasing programs and recycling, food waste collection, and reuse systems that design out waste from the campus, in turn supporting Cambridge efforts. In 2020, several innovative waste pilots were completed at locations across campus, while soon-to-be occupants of the new E38 project in Kendall Square worked together to implement waste collection practices to drive sustainable behavior. MIT continues to serve on and chair the Cambridge Recycling Advisory Committee to help ensure a community-wide approach to zero waste efforts. In August, MIT worked with the City of Cambridge to provide an accessible site for its Household Hazardous Waste collection day.

After receiving a $250,000 grant from the Henry P. Kendall Foundation in early 2020, MIT was poised to begin a project that would bring more Massachusetts-grown surplus crops into the dining halls at MIT by strengthening partnerships with local food partners. While this project is on hold during the Covid-19 pandemic, MIT continues to set the groundwork for building a low-carbon food system that incorporates social justice and sustainability.

Through the Access MIT program, the Institute continues to provide generous subsidies for staff, faculty, and post-docs for low-carbon commuting — including subway, bus, bicycling, and commuter rail — which resulted in a nearly 15% decrease in parking at gated facilities on campus in the first three years of the program.

Tree Resources
MIT has been pleased to participate in the Cambridge Urban Forest Master Plan (UFMP) Task Force work throughout 2019. Building on the findings of the Cambridge Climate Vulnerability Assessment (CCVA), the UFMP recognizes the collective role of City-owned public rights-of-ways and publicly accessible private-owned lands to provide "cool corridors." These open space networks and gathering places provide City dwellers with shade, comfort, and better air quality along key urban transit corridors. Trees and soils are characterized as a "living infrastructure" system that can increase resilience and mitigate the effects of climate change for the community.
This focus correlates with MIT's efforts over the past few years to reinvigorate or provide new tree planting along key campus and public streetscape corridors. In each location, best practices such as the use of structural soils under paving, irrigation, and connected tree beds or tree trenches undergirds growing conditions where trees can survive and flourish despite urban stresses.
Moving Toward Climate Neutrality
Throughout 2020, MIT undertook collaborations focused on helping shape the implementation of the City's Net Zero Action Plan adopted in 2015. The Action Plan identified a path forward for moving the City toward net zero greenhouse gas emissions. MIT offices, including the Department of Facilities; the Environment, Health, and Safety Office; MITOS; and MITIMCo participated in numerous working groups organized by the City to provide stakeholder input on various components of the plan including new construction requirements, existing building energy efficiency, energy performance reporting, renewable energy procurement and generation, lab energy use, and local low-carbon energy supply.

Since 2015, MIT has been working aggressively toward the goal of a minimum 32% reduction in greenhouse gas (GHG) emissions by 2030 as called for in the MIT Plan for Action on Climate Change. Overall net emissions are now 24% below MIT's 2014 baseline, with emissions on campus reduced 6% over the previous fiscal year. This reduction was driven in part by gains in building-level energy efficiency investments, increased operational efficiency of the Central Utilities Plant (CUP), a less intense heating season, lower energy demand on campus spurred by Covid-19, and reduced carbon-intensity of the local electricity grid.

Campus energy efficiency remains a core component of MIT's multi-faceted strategy to reduce emissions. Energy audits of existing campus buildings focus on improved efficiency and enable significant energy and emissions savings. MIT's Department of Facilities continually tracks building energy use to prioritize these audits for buildings with the greatest potential for energy and emissions impact and, in turn, reduction. Energy audits follow a process of study, design, and implementation with energy usage and emissions reductions often realized one to two years following the beginning of the project.

MITOS continues to develop data to build a preliminary analysis of the Institute's Scope 3, or indirect, GHG emissions. This is done to inform MIT's total greenhouse gas emissions activities (in addition to Scopes 1 + 2) and explore where strategic opportunities may exist to reduce emissions beyond what MIT is currently tracking. This effort has been collecting available emissions data including that of purchased goods and services, MIT-sponsored travel, commuting, and capital goods (furniture, fixtures, tools, etc.) using the World Resources Institute/ World Business Council for Sustainable Development GHG Protocol for Scope 3 framework.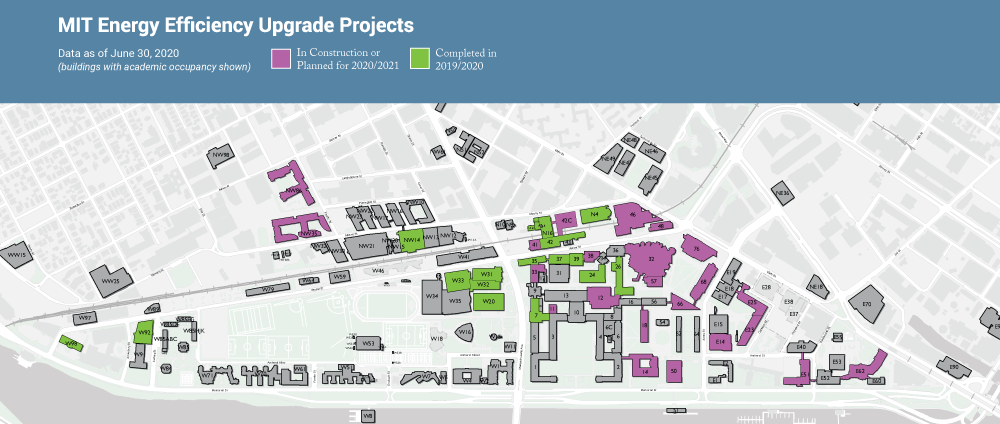 Climate Resiliency
The MIT Climate Resiliency Committee, overseen by MITOS, works to collaboratively assess, plan, and operationalize a climate resilient MIT. It seeks to ensure a campus community that continues to fulfill its mission in the face of current and future climate risks and disruptions due to flooding from more frequent and extreme rains, storm surges, and rising sea-levels, as well as extreme heat events.

Managing the uncertainty of these climate risks requires understanding challenges and identifying adaptive opportunities through integrated "layers of resilience": community, buildings, infrastructure, and site. These layers are both interdependent and collectively critical to supporting MIT's mission. Experts from the MIT Joint Program on the Science and Policy of Global Change serve as partners contributing new research to reduce the uncertainty for operational decision-making.

This applied research resiliency collaboration evaluates probabilities and models campus exposure to: 1) "flash flood" 1-3 hour intense rains; 2) day-long rain events from tropical storms, hurricanes, and nor'easters; and 3) storm surge and sea level rise. Flood risk modeling is also integrating planning approaches learned from MIT's Covid campus response into climate resiliency planning by prioritizing protection and adaptation of critical research facilities, community functions, and core campus operations.

Benefitting from a data sharing and collaboration commitment with the City of Cambridge, the newly unveiled MIT Climate Resiliency Dashboard seeks to translate the science of these climate risks into visual maps for use in operational and strategic decision making about campus-wide planning, capital renewal, new capital projects, and community preparedness. This dashboard's interface was designed by MIT students and created using the latest campus stormwater model that is harmonized with the City of Cambridge Flood Viewer and the City's flood risk model. Representatives from MIT also serve on the City of Cambridge Climate Resilience Zoning Task Force.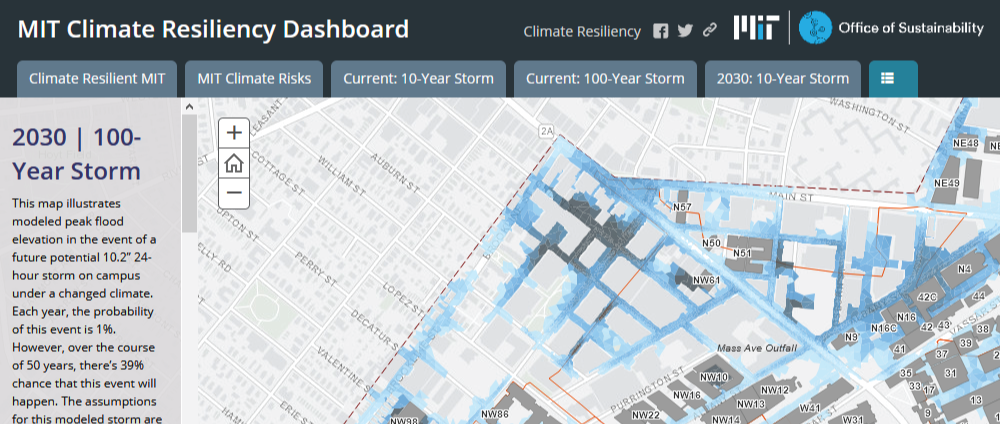 Open Sourcing Solutions
MIT is currently researching a number of climate change risks for open sourcing of findings to serve both the campus and Cambridge. Starting in 2020, MIT has begun hosting a quarterly research and modeling collaborative meeting among MIT research scientists, City staff, and modeling experts. Research findings to be explored through this MIT-City Flood Risk Collaboration include:
Flash-flood modeling of historic Cambridge short duration rain events
Updated characterization of future, changed climate conditions for Cambridge
Upriver Charles River Basin flow risks to Cambridge
Scale and intensity of convective storms in Cambridge under a changed climate
Joint probability of different flooding events
Looking Forward
Looking ahead to 2021, MIT will maintain its approach of applying what we know, empowering people to act, and pioneering solutions in sustainability to continue meeting aggressive goals. We will continue to seek collective engagement and action on priority areas that include:
A commitment to developing an equity-focused approach to sustainability that begins by envisioning a safe, just, and healthy future for MIT, the City of Cambridge, and the world;
Climate change and net zero action planning, including modeling and planning for climate adaptation and investments for a resilient campus;
Modeling and planning for a climate resilient MIT;
Expansion of data collection, data sources, and visualizations;
Working collaboratively to transform the campus food system to promote health and system and individual sustainability;
Managing the impact of the Institute's purchasing and waste systems in a manner that takes the full lifecycle costs and impacts of materials and products into consideration;
Broadening and deepening MIT's commitment to sustainable transportation and robust participation in Access MIT;
Utilization of both new and established strategies to mitigate campus emissions;
Seeking a comprehensive understanding of our water use patterns in an effort to reduce overall demand and consumption across campus.