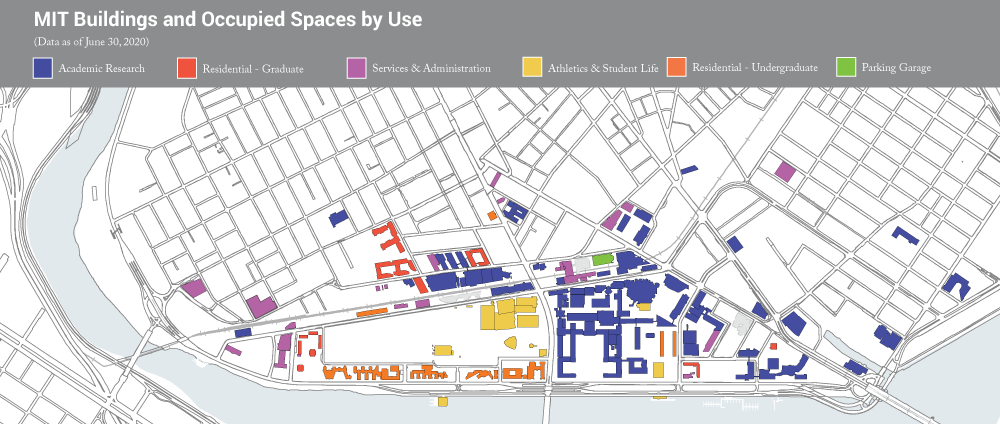 The projects that are being completed in 2020-2021, despite delays to construction imposed by the Covid pandemic, are building blocks for the Institute's strat­egy of strengthening infrastructure and initiating key renovations to create welcoming and active places for all people. These projects will greatly im­prove energy resiliency and efficiency and will unlock the opportunity for large-scale residen­tial renovations over several years.
The Kendall Square projects will create a greater sense of place for both the Institute and its neighbors and will more seam­lessly integrate academic pursuits with industry. The project designs aim to convey the Institute's "MIT-ness" by highlighting innovation in its many forms and enabling all visitors to experience the fast-paced excitement that is characteristic of MIT and Kendall Square. 
Even as the initial set of Kendall projects open, other projects in Kendall and at Volpe are in planning, design, or construction. All of these proj­ects will create and extend open space and a re­newed streetscape – enlivening Kendall Square, the Volpe parcel, and the MIT campus.
In addition, a new set of campus projects – a new music facility, the Burton Conner renovation, the Met­ropolitan Warehouse renovation, the Schwarzman College of Computing, the Grand Junction Multi-use Path, and the West Campus Graduate Student Dormitory – will provide additional streetscape and place-making opportunities as well as extend transportation infrastructure.
 Key Projects being completed in 2020 - 2021
MIT Museum
A new purpose-designed building will provide 200% more programmatic space for the MIT Muse­um, including galleries, classrooms, and meeting rooms. Site 5, which will house the museum, will also include the MIT Press Book­store, ground floor retail, and commercial office space. The building will welcome the public as a literal and figurative second entranceway to the In­stitute, framing a vibrant crossroads in Kendall Square.
Innovation and Entrepreneurship Hub
This new hub will house the MIT Innovation Initiative and other key partners in the Institute-wide innovation ecosystem in Building E38 at Site 4. The upper five floors will become open multi-use spaces for makers, students, researchers, and staff, powering the exchange of ideas between the problem solvers of MIT and the broader innovation community of Kendall Square.
New MBTA Headhouse
Partly due to Covid delays, the new MBTA headhouse construction has lagged behind the new MIT buildings adjacent to it. Completing this key infrastructure is central to the full experience of the new Kendall gateway to MIT.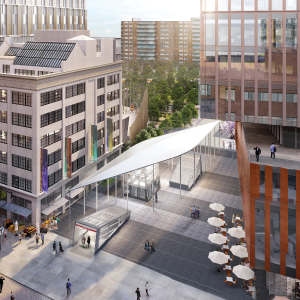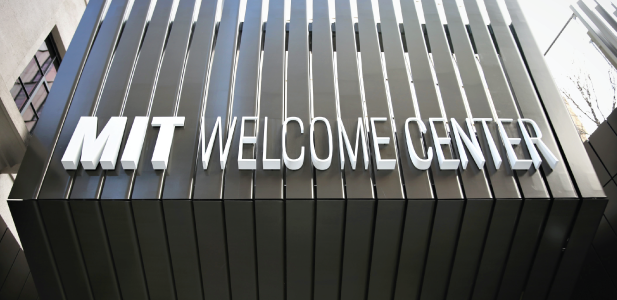 MIT Admissions
A modernized MIT Welcome Center, housed be­neath the new graduate residence in Kendall Square at Site 4, will be the new face of the Institute for prospective students. Within the same building, the MIT Forum will provide a gathering space for admis­sions programming as well as for a range of pre­sentations from the wider MIT and Cambridge communities.
Open Space
Two acres of new and repurposed open space will invite the MIT, Kendall, and Cambridge com­munities to come together to unwind, connect, and discover. Pockets of activity programmed by MIT — such as pop-up performances, hands-on science activities, and outdoor movies — will draw in passersby and infuse the Kendall area with a vibrant energy.
Graduate Tower at Site 4
This new residential space opened in November 2020 and offers MIT's graduate stu­dents, including those with families, a campus home at the nexus of academia and industry. The new residence features more than 450 apartments; a host of common areas including study spaces, a playroom, and a terrace; and a childcare center to benefit the entire MIT community.
Central Utilities Plant Expansion
The upgraded Central Utilities Plant will con­serve energy and lower emissions while also improving the resiliency of the campus. By up­grading the cogeneration plant, MIT is creat­ing a flexible power system that positions the Institute to explore emerging sustainability and efficiency measures. Able to adapt and evolve in response to advances in the energy field, the new plant is central to MIT's commitment to reduce greenhouse gas emissions at least 32% by 2030.
New Vassar
The new 450-bed residence hall opening in January 2021 will not only be a great contribution to the student life experience at MIT, it will also provide MIT with added flexibility and capacity to pursue renewal projects across other areas of the housing system.
| Facilities and Land Owned | 2016 | 2017 | 2018 | 2019 | 2020 |
| --- | --- | --- | --- | --- | --- |
| Acres |   |   |   |   |   |
| Tax Exempt | 166 | 166 | 166 | 168 | 168 |
| Taxable | 92 | 92 | 92 | 90 | 90 |
| Number of Buildings (academic) | 111 | 114 | 114 | 115 | 115 |
| Dormitories |   |   |   |   |   |
| Number of Buildings | 27 | 28 | 28 | 28 | 28 |
| Number of Beds | 5,422 | 5,898 | 5,662 | 5,997 | 5,964 |
| Size of Buildings (gross square feet unless otherwise noted) |   |   |   |   |   |
| Institutional/Academic | 7,036,694 | 7,235,839 | 6,985,293 | 7,223,070 | 7,223,070 |
| Student Activities/Athletic/Service | 2,247,058 | 2,243,358 | 2,068,551 | 2,063,599 | 2,063,599 |
| Dormitory/Nontaxable Residential | 2,866,373 | 2,882,602 | 2,882,602 | 2,882,602 | 2,894,036 |
| Commercial (in square feet) | 6,109,827 | 6,337,516 | 6,403,144 | 6,408,948 | 6,380,578 |
| Taxable Residential (in rental units) | 163 | 163 | 163 | 163 | 163 |
Real Estate Leased
Leased Location*
Use
Sq Ft**
1 Cambridge Center
Institutional/Academic
20,509
1 Kendall Center
Institutional/Academic
15,085
1 Kendall Square, Building 300 - 4th-5th Floor
Institutional/Academic
22,506
1 Main Street - Suite 1250
Institutional/Academic
31,836
1 Main Street - Suite 900
Institutional/Academic
31,571
1 Rogers Street - 3rd Floor
Institutional/Academic
24,046
105 Broadway - 6th-7th Floor
Institutional/Academic
47,488
222 Third Street - Suite 300
Institutional/Academic
2,584
245 First Street - Suite 1500
Institutional/Academic
19,805
300 Tech Square - 2nd Floor
Institutional/Academic
6,451
400 Tech Square - 6th Floor
Institutional/Academic
10,901
500 Tech Square
Institutional/Academic
93,108
600 Tech Square - 2nd-4th Floor
Institutional/Academic
83,561
600 Tech Square - 5th Floor
Institutional/Academic
25,346
700 Tech Square
Institutional/Academic
15,753
 
Total
450,550
* Leased by MIT from third-party landlords.
**The square footage may only be a portion of the entire building.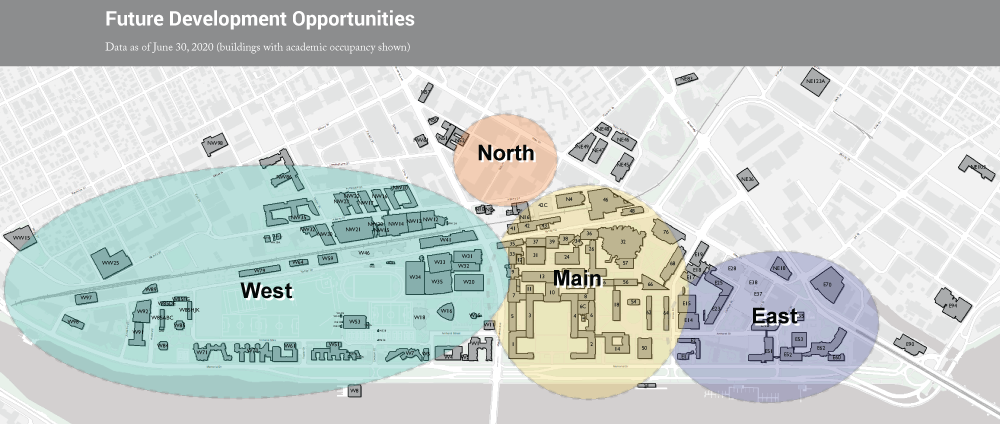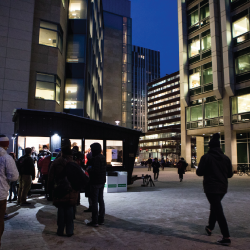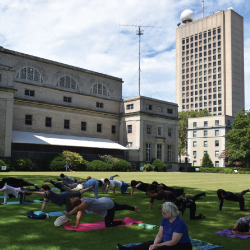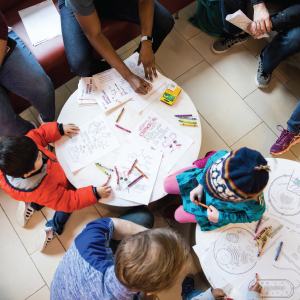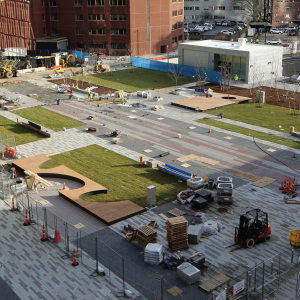 Open Space Programming
In 2019-2020, the MIT Open Space Programming team continued to engage audiences with a range of active and vibrant programs geared toward the MIT, Cambridge, and Kendall Square communities. The team's work is enhanced with input from an Open Space and Retail Advisory Committee composed of members from the Kendall, Cambridge, and MIT communities. Before the Covid-19 pandemic, the Open Space team piloted concepts in a variety of spaces around MIT's campus to help inform the planning for the Kendall open space areas. All of the programs presented were free, open to the public, and attended by a mix of participants from MIT, Kendall, and Cambridge.
In August 2019, the team presented "A Breath of Fresh Air," a series of fitness and wellness classes, in collaboration with Community Wellness at MIT Medical. This took place on MIT's Saxon Lawn, at the corner of Memorial Drive and Ames Street.

On a beautiful sunny day in September 2019, the team created a "mini park" for Cambridge's (PARK)ing Day, transforming two parking spots in MIT's Ford Lot (near the corner of Main and Ames Streets) into a space for relaxation, connection, and play. At the event, talented arts apprentices from the Community Art Center led art-making activities, and participants enjoyed games and puzzles.

In November 2019, the team organized pop-up lawn games created by MIT's Game Lab and served hot apple cider in MIT's North Corridor (or the "Outfinite," as it is known by MIT students). On the unseasonably warm day, the team experimented with "self-serve" activities that participants could enjoy on their own.

Following the success of 2019's Winter Family Day, the team organized a second annual MIT Winter Family Day in January of 2020, featuring a wide range of indoor and outdoor programs on MIT's Hockfield Court, at the Stata Center, and in the Koch Institute. Featured Cambridge and MIT collaborators for Winter Family Day included: Band Land Brass Band (a band of CRLS students); Jean Appolon Expressions; the MIT Museum; the Department of Play; DJ Philip Tan; the Koch Institute for Integrative Cancer Research at MIT; MIT MechE Biomimetic Robotics Lab; Math Talk; and MIT Beaver Works.

In March 2020, all in-person programs went on a "pandemic pause," and the Open Space group experimented with virtual and hybrid programs. In May, the team organized a networking event where partners and collaborators from past open space programming could connect and share out how they were navigating the pandemic. An unexpected silver lining to this program was the opportunity to introduce programming partners to each other from across the MIT, Cambridge, and Kendall communities.

Later in May 2020, the team organized an activity centered around community building and gratitude, where participants used Zoom to join a simple art-making activity and create a "Thank you" collage for the front-line staff working on MIT's campus.

In August 2020, the team presented a modified "A Breath of Fresh Air" series (the fitness and wellness program previously held in person) to be all virtual. The program connected audiences with free classes, including: Creative Dance for Kids (and Families) with Jean Appolon and Meghan McGrath; Gentle Yoga with Hadassah Segal; Mindfulness Meditation with Ashley Norwood; and BollyX with Fen Tung. Classes were pre-recorded and made available for one week, giving participants more flexibility to fit the classes into their schedules and leading to a 250% increase in participation.

In collaboration with the Media Lab's Lab for Social Machines (LSM), the team piloted a "Sprout Pets" activity for children ages 8-12 in August 2020. Twenty-two children were paired up with 18 coaches and received a Sprout Pet kit with fun, personalized enrichment activities and projects (both digital and physical) to foster curiosity and creativity during the pandemic.

In addition to presenting virtual programs, the Open Space Programming team has been working closely with MIT's Admissions team to prepare for the MIT Welcome Center to open (once it is safe to do so). As the first stop for most people visiting MIT, the inviting space includes a front desk, a 220-seat auditorium, restrooms, and a beautiful gathering area with views over the open space outside. The Open Space Programming team is eager to work with Cambridge and Kendall collaborators on public events at the Center.
Construction on the Kendall open space is due to be completed by fall 2021, and the team will begin presenting in-person programs as soon as it is safe to do so.
Renewed Central Spine on Vassar Street
Vassar Street
Vassar Street is celebrated for its first-in-the-na­tion bicycle track that transformed a drab in­dustrial service corridor by burying utilities un­derground and creating a cohesive streetscape of trees with attractive paving and street lighting. This work happened in two phases, east and west of Massachusetts Avenue, between 2002 and 2008. Four important projects were built along both ends of the new Vassar Street: the Stata Center (Building 32, home of computer science laboratories and the Department of Linguistics and Philosophy), the Brain and Cognitive Sciences Center (Building 46), the Zesiger Center (W35, the pool and recreation facility) and Simmons Hall (W79, an undergraduate residence hall).
A renewed effort to strengthen Vassar Street as a central spine on the campus is now underway and will unfold in the first half of this decade. Similar to the earlier program, this effort involves a dual emphasis on the public realm and on core campus activities. A key goal is to not only strengthen the east-west spine but also make the campus more porous and inviting for north-south access.
The Grand Junction bicycle and pedestrian path is the keystone for generating opportunities to enliven the railroad corridor running east to west and enhance the track crossings running north to south. MIT has contributed $1,000,000 for the de­sign and construction of the pathway to date and has committed an additional $8,000,000 plus an easement to facilitate path construction across MIT-owned property.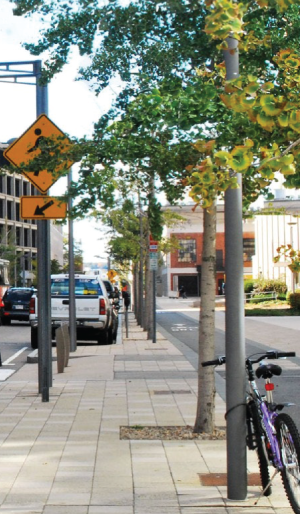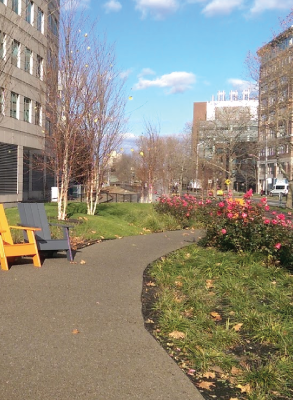 The Central Utilities Plant (CUP) expansion, the Grand Junction Multi-use Path, and the Schwarzman College of Computing building provide the first opportunities to enhance this more porous spine. The walkway from Albany/CUP across the Grand Junction Multi-use Path to Vassar/Schwarzman College of Computing is the central and key feature of larger campus greening plans. An existing narrow asphalt path across the railroad tracks will be transformed into an attractive walkway that connects MIT, the adjacent innovation activities across Albany Street, the retail on Main Street, and the Cambridge community beyond. This enhanced pedestrian and cycling railroad crossing breaks up a 19th-century industrial superblock and will serve as a major crossroad on the planned Grand Junction Multi-use Path.
While the trees on the western end of Vassar Street have fared well, many of the trees on the eastern end of Vassar have not. MIT has reestablished the structural soil and planted 36 new trees from Massachusetts Avenue to Main Street. The plan going forward is to carefully coordinate with ongoing utility and building construction along Vassar Street, including the planned Schwarzman College of Computing building (Building 45).
The renovation of the Metropolitan Stor­age Warehouse for the School of Architecture and Planning and Project Manus will bring new life to this historic struc­ture, dramatically altering this section of Vassar Street and enlivening the Massachusetts Avenue corner. This location will be a major street crossing for the Grand Junction Multi-use Path and an opportunity to go south to MIT and Boston or north into Central Square and beyond. The first step in the redevelopment of the core MIT campus on Massachusetts Avenue from Albany to Vassar Street, this project provides an opportunity to create an improved and expanded sidewalk and landscape space on Vassar Street by reclaiming an area previously used as a loading zone.
The construction of the new undergraduate residence on Vassar Street has brought major improvements to the Vassar streetscape with new plantings, creative architecture, bike park­ing, and benches. By enlarging and transforming the space south of the Multi-use Path and the Grand Junction tracks into a lively urban plaza, this project improves the pedes­trian environ­ment and properly connect cyclists to and from the Vassar Street cycle tracks. The West Campus Graduate Student Dormitory provides the final piece of the plan, at least for the near future, for a north-south crossing on the Grand Junction Multi-use Path. Fort Washington Park lies to the north of the path, and a major landscaped plaza and walkway will be built next to the new dormitory. This enhanced connection will bring pedestrians and cyclists into a growing portion of the MIT campus and provide connections to the Charles River, including the signalized crossing on Amesbury Street.
Capital Renewal
Stewardship of the campus requires continued investment to preserve iconic buildings and to renew systems that support the teaching, research, and student life mission of MIT. Many of the large building renovation projects initiated through the MIT 2030 capital plan have created modern spaces with the updated energy-efficient systems needed to meet the challenging demands of contemporary research. Additionally, capital renewal has enhanced community and residential spaces essential for the thousands of people who work, play, and live in this vibrant community. The Institute recognizes this is a long-term effort which requires careful planning of resources and attention to mitigation of construction disruption. The ambitions for the renewal program are high and, with perseverance, progress will continue as teams work to retire deferred maintenance and sustain MIT's position as a global leader in teaching and research. A few of the renewal projects initiated over the past year are highlighted here.
Building 7 Dome
Architect William Wells Bosworth integrated two monumental domes into the original Main Group complex. The two domes mark the primary entrance points of the original MIT campus at Killian Court (Building 10) overlooking the most public green space on the Charles River and on Massachusetts Avenue at Building 7. MIT embarked on the renewal of the Building 7 Great Dome after its more than 80-year-old asphalt waterproofing began to fail and leaks began to damage the interior plaster dome. Led by a restoration team of Simpson, Gumpertz and Hager, Inc. and executed by Tishman Construction, the lower rings of the Dome limestone were carefully measured and disassembled, with new waterproofing installed over the original concrete structure, all to be rebuilt within a 12-month period. Careful planning, engineering, and construction logistics were key elements in order to preserve the historic architectural details, minimize disruption in Lobby 7, and most of all ensure the repairs will extend the life of this legacy building.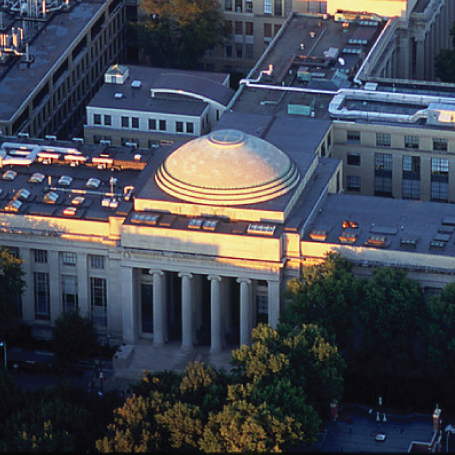 Building 46 Energy Enhancements 
Constructed in 2001, the Brain and Cognitive Sciences Building (46) is one of the highest energy users on campus, accounting for approximately 8% of total campus energy consumption and roughly 8% of campus emissions. Reducing energy usage in this high-intensity research building will further the Institute's goal to reduce greenhouses gases at least 32% by 2030. The building was originally designed to support the greatest flexibility in the use of space for research; its research programs have now crystalized, and opportunities to reduce energy consumption are possible.
Without sacrificing research potential and researcher safety, the energy enhancements will optimize the airflow requirements of the building through a series of measures including installation of occupancy sensors, relocation of diffusers to improve airflow effectiveness within the lab spaces, and discharge air temperature and static pressure resets. The majority of these measures are accomplished through modification of control sequences and the completion of a rebalancing effort throughout the building. These measures will reduce energy consumption and improve occupant comfort. Additional measures include installation of variable frequency drives, retrofitting existing lighting fixtures with new LEDs, and expansion of the lighting control system.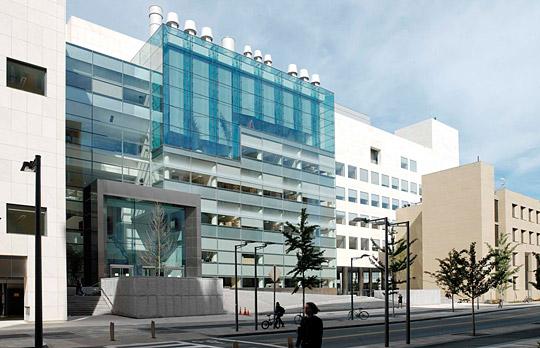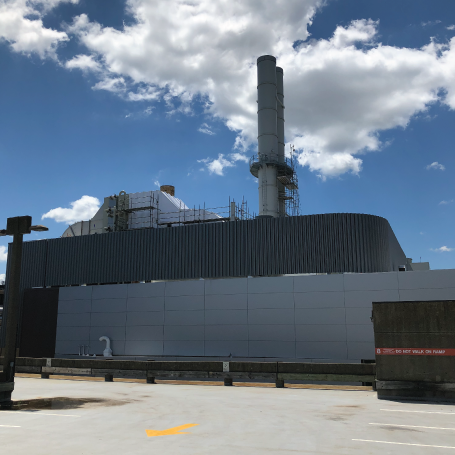 Central Utility Plant Medium Temperature Hot Water 
The ongoing conversion of the campus from high pressure steam distribution to medium temperature hot water is one step in meeting the Institute's goal to reduce greenhouse gases at least 32% by 2030. In addition to a direct reduction in campus greenhouse gases, the transition to a modern district energy heating system provides enhanced resiliency, increased reliability and safety, lower energy losses, and lower life-cycle and maintenance costs.
The project includes a rooftop mechanical addition on Building 42, the existing Central Utilities Plant. This addition will house a central hot water heat exchange plant that will convert steam to hot water for more effective thermal distribution to campus buildings. The project will also address code updates in Building 42, add architectural screening to improve views on Vassar Street, install a new hot water distribution piping system for the Schwarzman College of Computing, and enable the future transition of the Brain and Cognitive Sciences Building (46) to medium temperature hot water. Harnessing our internal knowledge, MIT engineers began the development of the design plans which were then completed by Vanderweil Engineers.