The shift to remote work and learning during Covid impacted MIT's planned 2020 pK-12 activities. For safety reasons, all in-person educational activities were suspended, including the anticipated Tech Experience collaboration between MIT and the CRLS High School Extension Program.
Undeterred, MIT's pK-12 community pivoted to find alternatives so that high quality STEAM programming could continue. Within weeks after the pandemic broke, the pK-12 community launched Full STEAM Ahead, a website that both created new activities and curated existing online STEAM enrichment activities. Additionally, MIT supported offline efforts like the Cambridge STEAM Initiative's STEAM@Home resources, which included its innovative idea to print STEAM activities on lunch bags distributed to Cambridge Public School students at the end of the academic year.
FullSTEAM Ahead
Full STEAM Ahead began as an online resource hub to provide robust curated content to K-12 students, teachers, and parents during the first surge of the Covid-19 pandemic, when schools around the world started to shut down in rapid succession. Within days of the full-campus evacuation in mid-March, members of MIT's pK-12 education community came together on Zoom to organize a coordinated response. It was Professor Eric Klopfer, director of the Scheller Teacher Education Program (STEP), who first suggested an online resource hub with a highly interactive hands-on learning component and signed on to lead the project along with Claudia Urrea and the MIT pK-12 Action Group.
In a matter of weeks, the core team had built the site and were compiling resources in consultation with local school systems. Office of Government and Community Relations (OGCR) K-12 Outreach Administrator Rohan Kundargi communicated with colleagues in the Cambridge Public Schools in order to better understand student and teacher needs.
As a result, the interactive site was able to meet Massachusetts data privacy and security requirements, making it easier for teachers to turn to as a resource.

With support from the Abdul Latif Jameel World Education Lab (J-WEL) and a monumental effort of coordination, the hub has grown into a vibrant learning community. During the first six months of shut-down, the team created 10 custom interactive learning packages and two highly successful online summer programs. One summer program, Full STEAM Ahead Into Summer, worked with over 325 middle school students from around the Commonwealth (30% from Cambridge) to prevent a "Covid-slide" or falling behind due to the pandemic. Learn more at https://fullsteam.mit.edu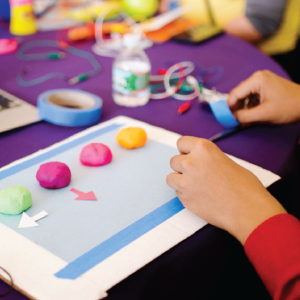 Summer Youth Employment Program
With Covid-19 restricting the ability to have on-site employees, the Summer Youth Employment Program was completely reimagined as an academic enrichment activity instead. MIT OGCR and the MIT Museum partnered with the Department of Human Service Programs Summer Youth Employment Program to host 20+ rising 9th graders from Cambridge's Rise Up Program.
Over the course of three weeks this past summer, educators from the MIT Museum met with students and teachers in the Cambridge Rise Up Program to carry out a pilot program around environmental health and citizen science. After modeling the scientific process through a dust collection and analysis project (using cell phones and scanning electron microscopes), the students discussed what environmental health factors would be interesting to study in the context of their communities and outlined a plan for how to test these factors.
Students focused on what kinds of scientific questions are most relevant to them and their community, how those questions could be tested given certain constraints and resources, and the longer term goal of seeking equitable change in community environmental health. Thanks to students diving deeper into these topics, there were great student-led discussions on sample size, questions to ask subjects if collecting interviews, and factors involving the safety of the student scientist in collecting data. Feedback from this pilot will inform a student-led citizen science program in the fall.
MIT Impact Scholarship
The MIT Impact Scholarship celebrated its fourth year of awarding scholarships to ten phenomenal students (6 Cambridge Rindge and Latin School students, 2 Prospect Hill Academy students, and 2 Community Charter School of Cambridge students) from a range of backgrounds. Instead of focusing on traditional academic markers, students are selected for the scholarship based on the impact they bring to the people around them; all awardees have compelling personal narratives of making a difference in their larger communities. After a full review by school and MIT staff, ten $10,000 scholarships were awarded pending confirmation of continuing full-time college enrollment, bringing the current total amount of scholarships awarded to $400,000.
Selected K-12 Educational Offerings