MIT is committed to nurturing a diverse community that celebrates every individual from every corner of the globe and empowers people of every race, gender, and other social identity. This entails endeavoring to promote a workplace of inclusion that welcomes and supports people of all backgrounds and with different viewpoints, experiences, talents, and ideas. The Institute's mission to advance knowledge and educate students in science, engineering, business, architecture, and the arts extends to preparing all members of the MIT community to embrace diversity and equity,  creating a respectful and caring community that  inspires all to do their best.
To that end, the ICEO and Associate Provost are building a network of support across campus to help implement diversity, equity, and inclusion (DEI) goals. Building this capacity and infrastructure, including the establishment of senior staff and faculty DEI roles in every school and college, is a priority investment for the Institute. Additionally, the ICEO office is tracking the implementation of 46 recommendations from MIT President L. Rafael Reif, the National Academies of Science Engineering and Mathematics (NASEM), the MIT Black Student Union, and the MIT Black Graduate Student Association. With a focus on scholarships, admission, retention of underrepresented minorities, service contracts, and training for all community members, MIT is taking a whole-campus approach and challenging every area to view its work through a DEI lens.
One example of a new DEI initiative is in the procurement of architectural services for modestly-scaled projects on campus. While minority- and women-owned businesses were always welcome to compete for these service contracts, the recruitment of such firms has become the foremost principle governing procurement for this work.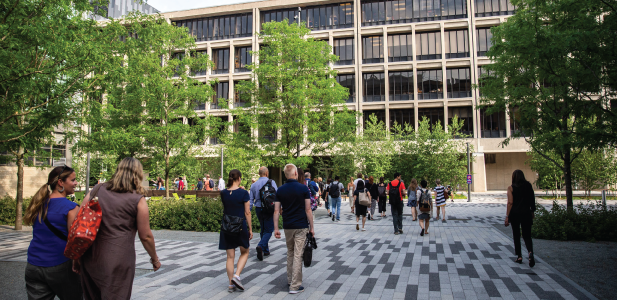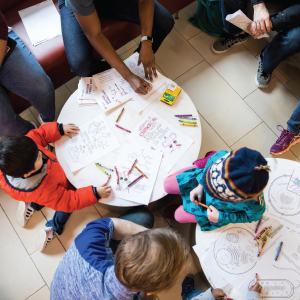 Diversity and Inclusion in Campus Spaces
While the Institute continues to build an equitable community on campus, planners are taking a critical look at how to create welcoming physical spaces and populate those spaces with programming that engages the broader Cambridge community.
Central to increasing community diversity at MIT is the improvement of access to and through the physical campus. The Institute's goal is to be more permeable and inviting, welcoming neighbors to include cross-campus routes in their daily lives. Planned and existing access improvements include:
A new entrance gateway to MIT and the new Kendall open space areas;
The two-way protected bicycle way coupled with traffic signals for crossing Memorial Drive, extending protected access from East Cambridge to the Charles River;
Direct financial and design participation in the implementation of the Grand Junction multi-use path through the campus; and
Four improved crossings of the Grand Junction tracks:
Adjacent to the new Central Utilities Plant and the Schwarzman College of Computing;
On Massachusetts Avenue in front of the planned conversion of the Metropolitan Warehouse to the new home of the School of Architecture and Planning and Project Manus;
At the new plaza leading to Pacific Street adjacent to the New Vassar undergraduate residence; and
At Fort Washington Park, via the proposed conversion of a narrow path through a large parking lot into a landscaped walkway and open space.
An essential component of welcoming neighbors to campus is the extension of an invitation — and encouragement to participate in active programming. The Open Space Programming team's approach to creating diverse and inclusive events is to co-produce and collaborate on programming with community-based artists, musicians, nonprofit organizations, and other creative partners. Partnerships make both program content and audience participation stronger because events  reflect the interests of local neighborhoods and neighbors are more willing to stop by if they see that a familiar organization, artist, or friend is involved.
Building and maintaining relationships with local organizations and maintaining open lines of dialogue are essential to the work of building successful community spaces. In addition to inviting partners and collaborators to MIT, the Open Space Programming team also encourages the MIT community to attend and participate in programs organized outside of MIT. This mutual participation builds trust and ensures that the Open Space team's ideas are in sync with community goals and narratives.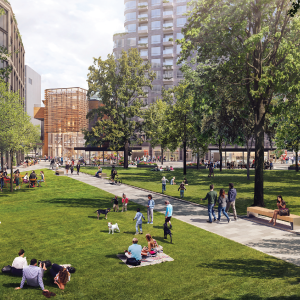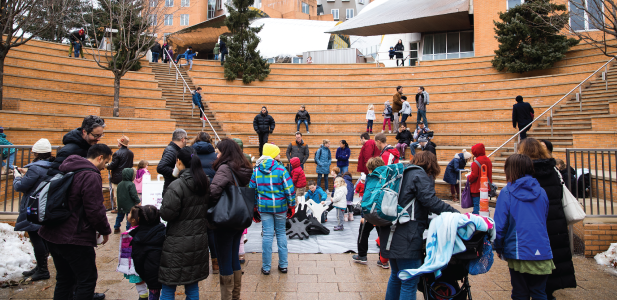 Volpe Redevelopment Project
The Volpe redevelopment project team is using a holistic approach with its plans for the 10-acre site, to create a vibrant, inclusive mixed-use district that builds connections and a stronger sense of community. The project team is hosting five community workshops in late 2020 and early 2021 to gather input on how best to create a truly equitable and inclusive environment while developing the community center, open space, retail, housing, and employment opportunities at Volpe.