The challenges of Covid-19 brought an unprecedented urgency to MIT's Town Gown relationship with Cambridge. From the beginning of the pandemic, the City and MIT knew instinctively that they had to fully support one another and maintain daily contact on all aspects of the virus. MIT focused both locally and globally to try and address the crisis. Campus researchers and makers pursued immediate and longer term solutions to protect the broader public. Some reached for their 3-D printers to test novel ways to create inexpensive PPE and testing kits, while others hunkered down in their labs to understand the nature of the new virus. The campus mobilized to tackle coronavirus the MIT way – by relying on the science, working the problem, and modeling a solution for our community and beyond.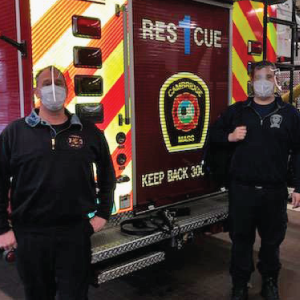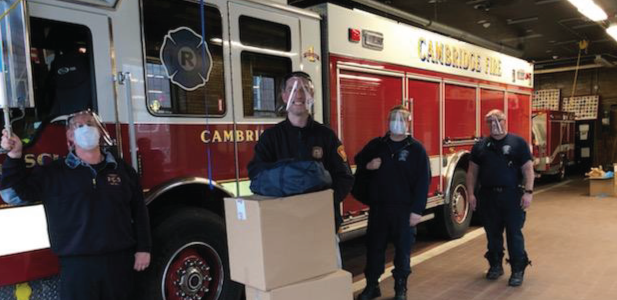 Locally, the MIT community rolled up its collective sleeves to support the City of Cambridge in a variety of ways:
$250,000 to support a temporary homeless shelter at the  War Memorial Recreation Center and Field House.
Together, MIT and Harvard University provided $500,000 of funding for this temporary City-run facility offering safe housing, isolation, and medical treatment for homeless individuals.
$250,000 for coronavirus testing.
The Institute contributed $250,000 for free coronavirus testing for Cambridge residents.
$50,000 to the Mayor's Disaster Relief Fund
MIT donated funds to help provide emergency assistance to Cambridge residents who are experiencing financial hardship due to Covid-19.
$65,000 raised from campus employees
The MIT community banded together through fundraising activities, auctions, and direct contributions to get much-needed funds out quickly to residents. Among other efforts, the Community Giving Office created a Neighborhood Response Fund in support of six local nonprofits that actively support our neighbors. MIT Sloan coordinated a faculty auction which raised money for the Cambridge Community Foundation and the Mayor's Disaster Relief Fund.
Suspension of rent for 33 retail tenants
The Institute immediately suspended rent for all of its retail tenants in Central Square, Kendall Square, and on campus. As a result of this support, 32 of these tenants are now open again for business.
Personal Protective Equipment (PPE)
Forty thousand face shields (fabricated by MIT's Project Manus) were provided to Cambridge first responders, and 900,000 other pieces of PPE were distributed locally. Cambridge needs were prioritized, and repeated donations were made to the Cambridge Health Alliance, Cambridge Police Department, Cambridge Fire Department, Mount Auburn Hospital, CASPAR homeless shelter, and other local nonprofits.
Emergency K-12 educational resources
A consortium of MIT education professionals developed and launched the 10-week K-12 online enrichment program Full STEAM Ahead. More information about this program can be found in the "MIT and Cambridge Public Schools" section. MIT also delivered nearly 50 new desks to Cambridge families with students who are learning from home.
Assistance to the Cambridge workforce
The Job Connector by MIT continues to provide virtual counseling and online workshops for Cambridge residents, focusing on topics like which business sectors are currently hiring and how best to navigate the state's unemployment process.
Augmented support for local nonprofits
Several MIT offices (Government and Community Relations, Community Services, and the Priscilla King Gray Public Service Center) increased their support of Cambridge nonprofits that provide basic services to residents. This support included additional funding, advocacy, guidance, and PPE donations.
Sharing time and expertise
Jill Crittenden, a research scientist at MIT's McGovern Institute for Brain Research, serves as co-chair of Cambridge's COVID-19 Expert Advisory Panel and also developed food market/takeout safety guidance that was implemented locally in collaboration with the Cambridge Public Health Department. MIT staff serve on the Mayor's Disaster Relief Fundraising Taskforce and the Cambridge Community Foundation's Cambridge Artist Relief Fund grant review committee.
Housing for Cambridge emergency personnel
MIT provided access to housing for healthy and sick Cambridge first responders.
MIT's and the City's shared Covid experience has opened up new doors of understanding and collaboration that will help us face future challenges together. Regardless of this silver lining, we are all devastated by the loss of Cambridge residents, friends, and family to the virus.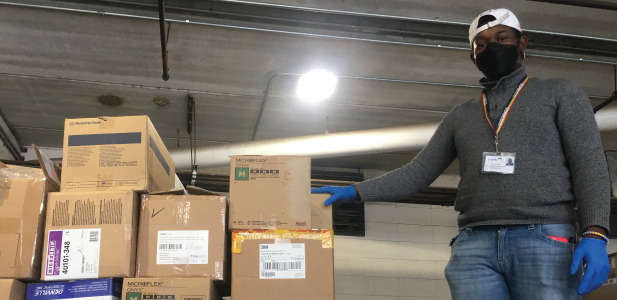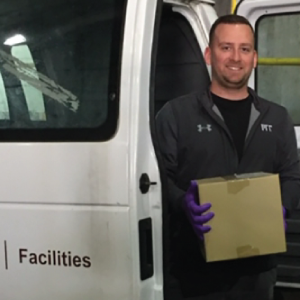 Moving an entire campus online
In the span of one week in March, MIT went from a bustling hands-on research campus to a remote-learning institution. This quick shift required an extraordinary commitment of time, resources, and effort, challenging staff, faculty, and students to develop smart solutions to a global pandemic. Those tasked with supporting students through the transition had the added responsibility of accommodating each student's individual circumstances.

MIT Medical, which began monitoring Covid-19 in January, mobilized in early February to support students returning to campus after the four-week Independent Activities Period (IAP). Anyone returning from regions affected by Covid-19 was asked to self-quarantine for a full 14 days, and all quarantining students were supported by the Division of Student Life's CARE team as well as MIT Medical.

As the pandemic progressed globally, MIT Medical worked with leaders from across the Institute to prepare MIT for Covid-19 while closely monitoring the situation at nearby colleges and universities and across the region. When it became apparent that dramatic action would be needed to limit campus density and reduce the risk of spreading the virus, all classes were moved online and the closure of undergraduate residence halls was expedited.

A team of individuals from across the Chancellor's area led the effort to help students leave campus and safely return home. Faced with an extremely tight deadline, staff mobilized to assist departing residents, providing professional storage services, boxes, and in-residence storage space. Housing and Residential Services worked with a moving company to store more than 11,670 boxes of personal belongings. The students, feeling the weight of both their coursework and the sudden upheaval of their living arrangements, made a herculean effort. In recognition of all the challenges they faced, they were provided with financial and personal support — including reimbursement assistance for travel expenses — to make their transition as smooth as possible despite the pandemic. Many students coped with the unprecedented events by leaning on their peer groups and MIT's student support services.

A process was quickly developed to determine who needed to stay on campus, and MIT made the decision to continue housing hundreds of students who were unable to return home due to visa issues, safety issues, or other reasons. MIT's graduate students continued to carry out their research and coursework on campus. More than 180 members of the Housing and Residential Services team remained on campus to support MIT students and staff who would live in emergency housing — including security, janitorial, maintenance and operational employees.

Once the campus was de-densified, all of the support resources across the Institute quickly pivoted to begin providing remote services. In support of student mental health, a coaching team with more than 500 volunteers was set up to help students maintain their connection to the Institute and their peers. To enable the rapid shift to remote teaching, learning, and working, Information Systems and Technology (IS&T) expanded its longstanding student laptop loan service and launched a new iPad loan program. IS&T's Computing Equipment Loan Program received more than 2,500 requests from students, faculty, and staff over the next nine months, and distributed 593 WiFi hotspots, 601 laptops, 260 tablets, and 914 additional peripherals. IS&T's iPad loan program for undergraduates and teaching assistants distributed nearly 4,000 iPads to students in 50 states and 73 countries and territories. Additionally, the Office of Digital Learning and IS&T supported all spring 2020 MIT classes during the emergency transition to remote teaching and learning. This included the rapid deployment of Zoom, Slack, and the Canvas learning management system as well as training and resource sites for faculty.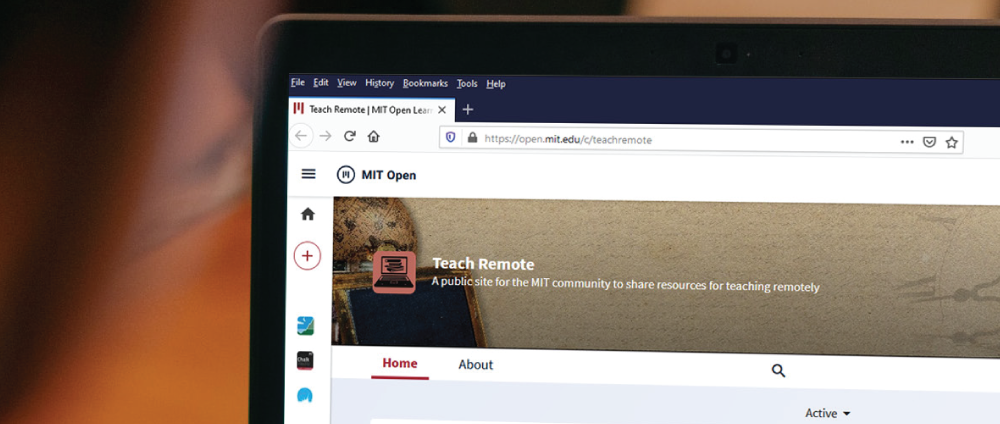 Opening the campus safely
Working in close collaboration with Cambridge emergency management officials, MIT developed a conservative approach to bringing undergraduate students back to campus that minimized risk to both the MIT and the broader Cambridge communities. MIT invited a limited number of undergraduate students back to campus for fall 2020, based on operational factors including testing capacity, the ability to house one student per room, the ability to provide medical attention if needed, and the fact that MIT's graduate students would be living on campus as well.
Per MIT's conservative approach, everyone living or working on campus is required to complete a daily health attestation to track potential symptoms of Covid-19 and is tested for Covid-19 regularly. The Institute also established and promoted a wide range of policies regarding the importance of wearing masks, maintaining physical distance, washing hands, limiting room capacities, and more. As a result of MIT's health and safety protocols, the overall campus rate of infection – including students, faculty, postdocs, and staff – has remained far below typical population rates of infection.
MIT continues to work closely with the City of Cambridge as it plans for winter/spring 2021.